Automatic self-cleaning filter is a kind of using mesh directly to intercept the impurities in the water, purify water, suspended solids, particulate matter, reduce the turbidity, purify water quality, reduce system dirty, bacteria and algae, corrosion, etc, to purify the water quality and protect the system working precision and other devices, water from the inlet to the cleaning filter body, due to the intelligent (PLC, PAC) design, the system can automatically identify the impurities deposition, to drain valve signal automatic drainage. It is widely used in agriculture, pharmaceutical, steel plant, mining, paper making, construction etc.
Production Feature of the automatic self- cleaning filter
(1)Large filtration area, high pollution content.Users can customize according to the actual working condition.
(2)Online operation without shutdown, no bypass features, and a short cleaning time, sewage consumption less than 1% of the total flow.
(3)Cleaning method is simple and efficient,the design concept of man-machine integration
(4) Differential pressure control, time control, manual control.
(5)With motor overload, overheating protection, can effectively protect the motor.
(6)Save the cost, improve the comprehensive utilization of the products and the competitiveness of the products .
(7)Intelligentialize
Working principle is like this. When the pressure difference reaches the preset value, or when the preset time is due, the filter will start a self-cleaning process, during which, the brush in the filter screen will rotate, brushing down the impurities caught by the filter screen, and then the impurities will be discharged from the drain valve.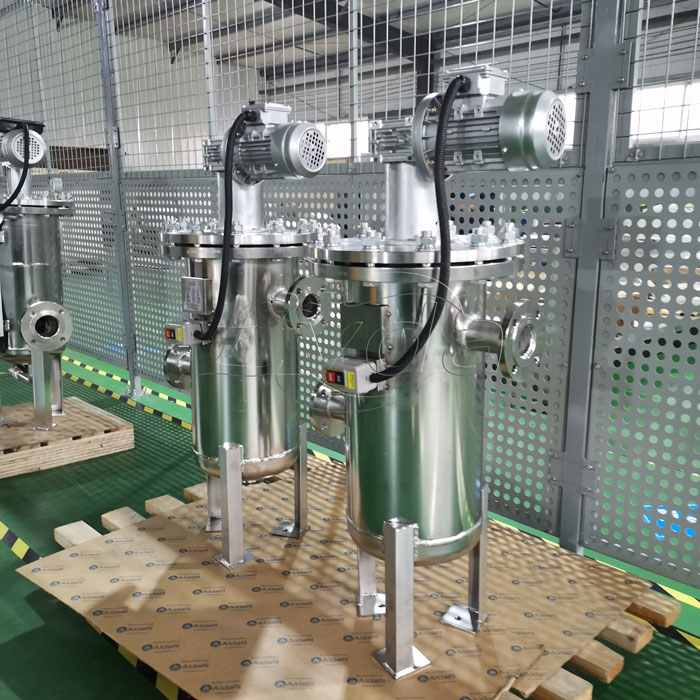 Last month our client Danny in Phillippines contacted us and told his requirements. He wanted to build a recirculating system for a hatchery of fish, the flow rate is 30m3/h. the system need some self-cleaning filters to remove fish waste in the water. After technical discussion, we recommended model ADSQF-65 filters with the specification of filtration precision 300 micron, inlet/outlet DN65, structure steel carbon steel and power 220V. Our client finally ordered 5 units the model. After installed, our filters were working pretty well. The clients promised to cooperate with us again for his new projects. We wish our client's business go up and u